Cart Contents
Your cart is currently empty
Subtotal: $0.00
Categories
Manufacturers
Bestsellers
Sale Item
Exhibit Card Reprint Set
$14.95
Server SSL Certificate
Welcome to Larry Fritsch Cards LLC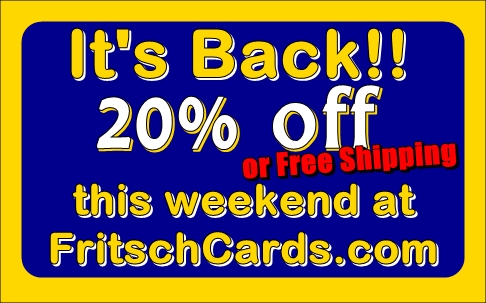 20% off or Free Shipping at FritschCards.com is back!
There's still time to do your Christmas shopping and now there is still time to save big when you order at FritschCards.com! This weekend take 20% off everything currently in stock on our website
(few exceptions apply, see below)
or get Free Shipping on orders over $75!

Choose which way you save!
-Enter code SBS20 for 20% off or
-Enter coupon code FreeShip113 for Free Shipping!
-Or...call in your order and mention this special offer
(715) 344-8687
To save on your order today just enter one of these codes:
SBS20 for 20% off
or
FreeShip113 for Free Shipping
(Offers cannot be combined. Only one code is valid per order. Offer does not apply to 2015 or 2016 items, pre-orders, or out of stock items. New Arrivals, Coming Soon, Graded Packs, and Vintage Sets are not eligible for discounts. All discounts subject to prior sale.)
We reserve the right to end this promotion, or change the discount amount at any time if the demand of orders becomes too large to fill in a reasonable time period. Only valid on in-stock items available at FritschCards.com. Some exclusions apply.


New Products